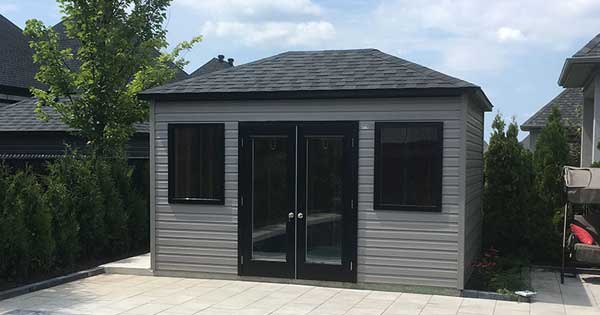 Buying a Garden Shed: Practical Guide
Buying a shed is a major investment that requires taking several factors into consideration. Many choices are available on the market, with widely varying styles, sizes and costs. So how do you get there? Here are some practical tips to make your search for the perfect shed easier!
Buying a shed: what are your needs?
To find the shed that will meet your expectations, it is necessary to define your needs. Why do you want to install a shed in the yard? What do you want to store there? How much space do you have in your yard? What storage capacity are you looking for?
You could start by listing all the items you want to store outside, such as the lawn mower, your gardening tools, your bikes, cleaning supplies, or the children's toys.
If you have a small lot, you can find prefabricated sheds starting at 4' x 6'. To maximize space, it might be worth opting for a shed with overhead storage. It is possible to have walls of 7', 8' or even 10'. Thus, you will benefit from the advantage of having a shed occupying a limited space, while allowing you to maximize storage capacity.
Installing a shed: do you need a permit?
Another important aspect to consider before starting your steps is to check with your municipality if there are any rules to follow regarding the construction of garden sheds. In most cases, obtaining a permit is necessary.
Certain limitations could be imposed on you, for example the fact that the shed must be at least one meter from the limits of the land. Regarding the size of the shed, you must also check with your municipality if restrictions apply.
Buying a shed: which model to choose?
Buy a prefab shed
If it is possible to start building a shed yourself, many people choose the prefabricated shed. Practical and aesthetic, the latter comes with multiple options. Less expensive than custom-made sheds, prefabricated models nevertheless offer unquestionable quality and a choice of sizes and various colors. Available quickly, they are easy to install.
Examples of prefabricated sheds:
What type of coating for your shed?
While plastic sheds are economical, easy to set up and move, they tend to lose their shine over time, do not hold up well to high winds, and can even warp. In addition, the formats available are very limited.
In terms of durability, we therefore recommend sheds with a wood frame covered with vinyl, whose roof is made of asphalt shingles. This option is more expensive, but your shed will serve you for a long time! Several color choices are available for the vinyl siding , to harmonize with that of your home.
A wide selection of sheds made in Quebec
Are you looking for specialized advice to buy a shed that will meet your expectations? For more than 30 years, the Cabanons Boyer team has been manufacturing superior quality garden sheds and sheds. Available on the South Shore of Montreal, and everywhere in Montérégie. Request your free quote today!


Références :
Cabanon Boyer. Why Choose a Prefab-Shed.
MON COIN DE VIE. Conseils pour choisir son cabanon. [Tips to choose a shed]