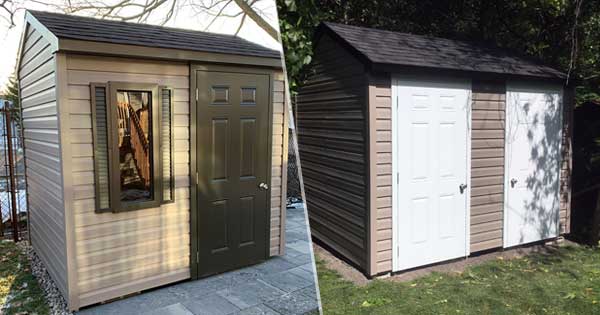 Shed with or without window? Comparative guide
To the question "should I install a shed in my garden", the answer is always obvious: it's a yes! But to the question: "should my shed have windows", the answer is often slower!
To help you in this reflection – quite necessary – we will take you through the advantages and disadvantages of a shed with windows.
Shed with windows: advantages
And there was light! Unsurprisingly, the main advantage of a shed with windows is to take advantage of natural light, which is good for your morale, as well as for your energy consumption! And what's nicer than being able to peek outside and not feel like you're locked in.
In the same vein, windows, like the door, allow the air to be renewed when they are opened regularly. Say goodbye to stale air and dust accumulated by storage or work.
A shed, we store equipment there, we work there, but we must not forget that it is an element that will come to dress your garden. And from an aesthetic point of view, it is clear that the presence of windows brings a graceful touch, and avoids the "block" effect. If you are interested in design, windows also offer opportunities for delightful contrasts, with vinyl siding for example. In particular, it can be given relief, by combining it with colored windows.
Equipping your shed with windows means opting for a model that is comfortable and pleasant to live in and use.
Shed with windows: disadvantages
The main disadvantage of windows is their insulation. In order not to suffer from heat or too low a temperature, double glazing is often required. In addition to guaranteeing you thermal comfort throughout the seasons, it will prevent heat loss in winter.
And all this of course comes with a certain price. In addition, its installation requires a sturdy base. So, double glazing still requires reflection. Keep in mind that this initial investment will still bring you benefits and savings on heating, for example.
We opt for double glazing for insulation, but also for solidity. Faced with a projectile thrown at your window, double glazing will definitely be more resistant than single, and much cheaper than triple.
Speaking of resistance, we also need to make the link with security. Since you will surely be storing valuable items in your shed, it is best that your windows are sturdy. Indeed, putting windows in your shed also means positioning entry points for possible burglaries. You will therefore have to secure your windows with the same rigor as for your garden shed door.
Finally, the other disadvantage of windows in a shed is the storage space they will make you lose on the wall. Between aesthetics and practicality, you will have a choice to make!
To acquire the perfect shed for you, contact the professionals at Cabanons Boyer who, for more than 30 years, have combined the quality of their advice with the satisfaction of their customers.
Source: Nectar du Net. Faut-il utiliser un double vitrage pour des fenêtres de cabane de jardin? [Should double glazing be used for garden shed windows?] 2022.