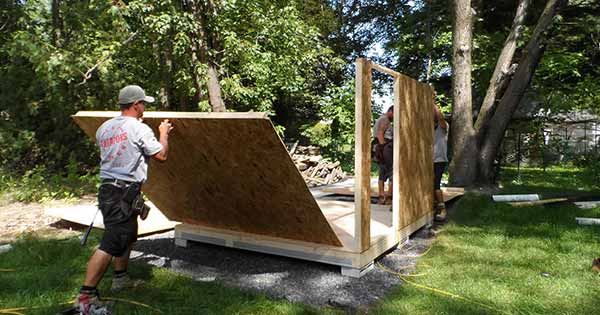 Kit Sheds: Advantages and Disadvantages
Combining both practicality and aesthetics, kit sheds are increasingly popular in Quebec. But if the latter offers many advantages, the custom-made shed or the prefab-shed installed by professionals are equally interesting options for some. Is the kit shed for you? Read on to find out more!
Sheds in kit form or made to measure?
Each has advantages and disadvantages, and it is up to each person to determine their needs to find out what suits them best.
Are you the manual type? The self-construction of a shed, the development of plans and the creation of a model perfectly adapted to your needs could be a stimulating project for you. However, if you are not a good handyman and do not have the required tools, it is probably better to turn to the prefabricated shed.
Shed kit: simplicity at your fingertips
Acquiring a self-assembly shed kit is a perfect option if you need a shed quickly and have little time to devote to it. Once the model has been chosen, it is ready to be installed directly on your land, by yourself or by a contractor. The prefab-shed is also cheaper and available more quickly than the custom-made one.
To paint a more complete portrait, here is an overview of the advantages of choosing a shed kit to assemble:
Quick setup
Prefabricated garden sheds only require on-site assembly. All you have to do is choose the model that meets your needs and assemble it yourself in your backyard, with a minimum of tools - or entrust the installation of the shed to the manufacturer. Installation is a simple and easy process that can be done in just one day, and the kit usually includes everything you need to build the shed if you choose to do it yourself.
Wide choice of models
The do-it-yourself shed kit industry offers choices for all tastes. Whatever your needs, you can choose from a variety of colors, materials, roofs, coatings and shapes. It is even possible to add additional doors and windows and modify the configuration as needed.
An affordable shed
Manufactured according to pre-established models, DIY kit sheds obviously offer a lower price than custom-built ones. The price will vary depending on the options chosen and you will generally save around 10% by doing the installation yourself.
A guarantee of quality
Prefabricated garden sheds are designed according to strict and well-established standards by the manufacturer. The structure, walls and exterior cladding are made with different materials and designs, which allows you to determine the level of quality you want for your shed.
Kit sheds: are there any disadvantages?
Is your space suitable for your shed?
The space you have in your yard is a factor to consider when choosing between a shed kit or a custom shed. Although there are prefabricated sheds of various sizes, nothing beats the creation of a shed that will perfectly fit the shape of your garden, or the corners of your land.
More options with self-build
And if you're the creative type, self-building a garden shed offers you the opportunity to exploit your talents by adding all kinds of options that could be more restricted with the shed kit to assemble. Adding shelves, hooks, windows and lights are some examples.
We have the shed kit you need
Looking for a shed kit to assemble for your new terrace?
For more than 30 years, Les Cabanons Boyer has specialized in the manufacture of quality garden sheds and sheds at competitive prices.